In resin bound surfacing the aggregate and resin are mixed together thoroughly. The material is then trowelled down immediately onto a base, to a smooth permeable finish. The finished depth of a resin bound paving surface varies between 16mm and 40mm – depending on the size and type of stone used and the application, e.g. pedestrian footpaths, driveways, tree pits/surrounds. Using a resin bound paving system allows us to combine different sizes and colours of stone, offering a wide variety of finishes.
Self-Illuminating Resin Bound Paths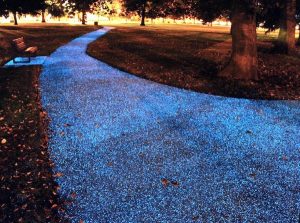 We also offer Self-Illuminating Resin Bound Paths, where the aggregate and resin is mixed with a specially designed
coating that makes ordinary pathways glow in the dark. It creates a natural appearance pathway in the daytime which transforms into a captivating soft blue luminescent glow at night.
When you choose Brantal Surfacing to take on the work that needs to be done, we will give you all the advice you wish with the work being carried out to the highest standards.