Tarmacadam is a popular choice for many applications. Except for air and rail
travel, it is what most of us use in the form of roads to travel on every day. Whether you need a tarmacadam railway platform, airport runway, highway, road, car park, boat yard, driveway, path, sports ground, play ground, skate park and even the bottom of a sea bound dredging ship. there is a type of tarmacadam surface for your domestic or commercial needs.
Tarmacadam is designed to be a long lasting surface that can withstand most of todays traffic, whether it be aircraft, HGV's, cars, motorcycles, bicycles and foot traffic. There is one thing that needs to be taken into consideration when tarmacadam is to be applied, that is the specification of what type and how thick. This determines the amount, and weight of traffic the surface can withstand.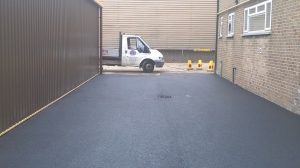 All tarmacadam surfaces need a good strong appropriate sub-base. This is probably the most important aspect of any surfacing application. If the sub-base is not up to scratch the surface on top will not last as long as it should. A compacted layer of type 1 limestone, to a depth required for purpose is a must before any application of tarmacadam. When you choose Brantal Surfacing to take on the work that needs to be done, we will give you all the advice you wish with the work being carried out to the highest standards.